Our low-cost dental implant pricing in Ventura County
Below is our pricing for the replacement of a single tooth with a dental implant.* From the surgical placement of the implant to the fabrication of the final crown we can provide with with a low cost solution to your missing tooth. We invite you to call other offices and you will see the benefits of having Dr. Gagne treat you.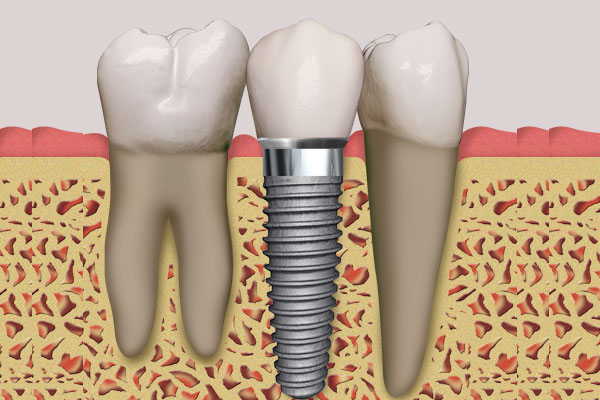 Since Dr. Gagne performs implant surgery we can provide you with a start-to-finish dental implant service. Most general dentist do NOT surgically place their own implants, they must refer the surgery to high priced periodontists or oral surgeons, so they cannot quote a complete fee. We think you will find our fees very reasonable when you call other offices which are not able to quote you a complete fee strat-to-finish.
Digital planning allows Dr. Gagne to very accurately plan where the implant will go. It is very advanced care that makes the surgery very safe because the positions of any nerves are easily identified.
The planning software allows for the construction of a "surgical guide" that is used by Dr. Gagne during the surgery. The old days of guessing where to place the implant are gone with this technology. And it makes for a fast surgery with great accuracy.

We wait 6 months for the implant to fuse with the bone. Then the abutment and crown are started.
The fabrication of the tooth over the implant is the final step. The abutment is screwed into the implant and the crown is cemented over it to complete your dental implant treatment. If you call other offices you will find just how reasonable our fee is.

Planning + Implant Surgery
Only
Done with

Local Anesthetic
$2295
Done with

Oral Sedation
$2393
Done with

IV Sedation
$2775
Planning + Implant Surgery + Crown
from Start-to-Finish

Done with

Local Anesthetic
$4090
Done with

Oral Sedation
$4188
Done with

IV Sedation
$4570
Oral Sedation fee is $98

IV Sedation fee is $480
As you can see, we provide one of the lowest cost dental implant solutions in Oxnard, Ventura, Camarillo, or all of Ventura County, California. This why our low cost dental implant solutions can help get you the implants you need at a cost that is affordable with the quality you deserve.
*The Fine Print
Our implant fee DOES NOT include the extraction of teeth and any socket grafting that might have to be done to prepare the extraction site for the placement of an implant in six months.
Our patients tell you their experiences