Our office was built for Nitrous Oxide/ Oxygen sedation.
Nitrous Oxide fee is $80 per hour
Benefits of Nitrous Oxide Conscious Sedation
Nitrous oxide sedation performed in our Oxnard, Ventura County, California dental office transforms adults and children filled with anxieties about dental treatment into comfortable, relaxed and responsive patients. Emergency patients have had bad dental experiences and are scared do very well under nitrous oxide as well.  Dentist Dr. Richard Gagne has been providing nitrous oxide/Oxygen sedation since 1980.  Nitrous oxide sedation has helped millions of people overcome their anxieties. It is safe, effective and the most trusted of all dental relaxation techniques.
Nitrous oxide is a gas used in conjunction with pure oxygen to relax patients who have dentistry related anxiety. When inhaled and absorbed into the body, nitrous oxide has a natural calming effect that lasts only as long as the dental procedure.
COMPLETELY SAFE. Nitrous oxide is recognized as the safest sedative used in dentistry today. It is mild, non-toxic and removes itself naturally from the body after use. Its benefits are even recommended for patients with certain medical conditions, including high blood pressure, angina and a history of heart attacks. Unlike general anesthesia, patients on nitrous oxide remain fully conscious and responsive at all times.
We use the latest equipment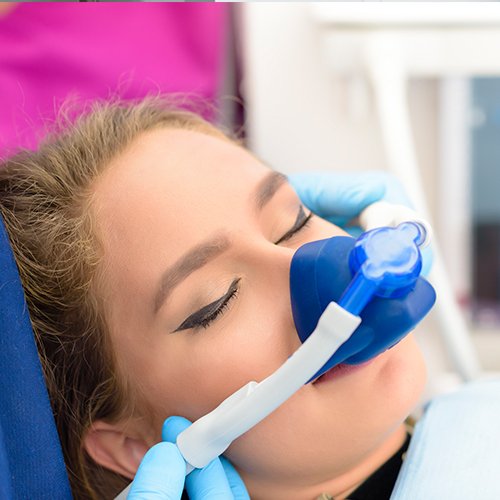 We utilize the most advanced nitrous oxide/oxygen delivery system available on the market today. The Porter MXR 3000. This is the flowmeter that establishes new parameters of precision performance. Its PORTER Flowmeter Tubes are so accurate, they are the only tubes trusted in hospitals across the country for the critical regulation of anesthesia.
Our office is equipped with a cost-effective centrally piped-in hospital-quality nitrous oxide/oxygen system. Most dental offices use small cylinders of oxygen and nitrous oxide. These cylinders are very expensive to use on a daily basis. This additional cost is passed onto the patient. Our central system allows us to offer nitrous oxide to you at a lower cost.
Our patients tell you their experiences